After squeezing Pakistan in BRICS 2017 summit over terrorism issue now Prime Minister Narendra Modi managed to get support from Myanmar too which agreed that terrorism remains one of the most significant threats to peace and stability in the region.
Myanmar government has said that the fight against the terrorism should also include strong measures against countries and entities who finance and provide sanctuary to terrorists. Without a doubt, it is a strong statement in an indirect reference to Pakistan.
In a joint statement, the two sides called on the international community to end selective and partial approaches to combating terrorism. The statement was issued after Prime Minister Narendra Modi's talks with State Counsellor Aung San Suu Kyi.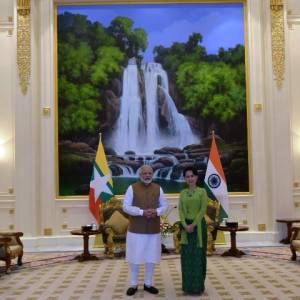 Image: Twitter
Myanmar condemned the recent terror attacks during the Amarnath Yatra in India and on its part India condemned the recent terrorist attacks in northern Rakhine State. In Rakhine, several members of the Myanmar security forces lost their lives.
It seems that these days Myanmar is at the center of India's foreign policy.
In August, the Uttar Pradesh Chief Minister Yogi Adityanath undertook a visit to Myanmar from August 5th-7th.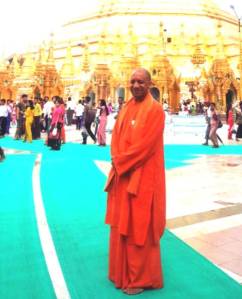 Image courtesy: Twitter
This was his first foreign tour after assuming office as CM of India's most populous state.
Myanmar a "key pillar": Modi
Interestingly, Prime Minister Narendra Modi few months back described Myanmar as a "key pillar" of India's 'Act East' policy. PM expressed his firm commitment to strengthening the bilateral relationship in all areas.
Modi made the comments when Commander-in-Chief of the Myanmar Defence Services Sr Gen. U Min Aung Hliang called on him, a PMO statement said.
Hliang briefed PM  about bilateral defence and security cooperation, the statement added.
The prime minister appreciated the close cooperation between the armed forces of both the countries, it said.
During the meeting, Myanmar's military chief condemned the recent terrorist attack on pilgrims of Amarnath yatra in Kashmir. He expressed his sincere condolences for the victims, the statement said.
In return, PM Modi also conveyed his condolences at the loss of lives of Myanmar armed forces personnel and their families in the tragic air crash which took place on June 7.
About India–Myanmar relations:
Since 1993, bilateral relations Myanmar and India have improved considerably, overcoming tensions related to drug trafficking, the suppression of democracy and the rule of the military junta in Burma.
The Indian government had worked to extend air, land and sea routes to strengthen trade links with Myanmar and establish a gas pipeline. Both governments have been proceeding to enhance cooperation in agriculture, telecommunications, information technology, steel, oil, natural gas, hydrocarbons and food processing.
Countering China's influence:
India's move to forge close relations with Myanmar are motivated by a desire to counter China's growing influence as a regional leader.
China's extensive military involvement in developing ports, naval and intelligence facilities, is a point of concern.
India's engagement with Myanmar government has helped ease the regime's international isolation.
India's engagement also lessens Burma's reliance on China.
India and Myanmar are leading members of BIMSTEC.
Myanmar's location:
Myanmar is located south of the states of Mizoram, Manipur, Nagaland and Arunachal Pradesh in Northeast India.
India–Myanmar border:
The Indo-Burmese border stretches over 1,600 kilometeres.
About the author: Author is an Associate Producer in ABP News Network Pvt Ltd and tweets at @AnuragSason
Disclaimer: The views expressed by the author are personal and do not reflect the opinions, beliefs and views of ABP News Network Pvt Ltd.